Event
Friday 13 February, 19:30 h
ANIMAC AT THE CCCB'09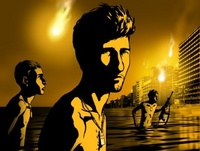 Enlarge image
Coinciding with the forthcoming release in Spain of the Oscar-nominated animation film Waltz with Bashir, directed by Ari Folman, the CCCB and ANIMAC are organizing a workshop to allow everyone who is interested in animation film to find out more about the working processes and new technologies applied to this field.
This activity marks the start of collaboration between the CCCB and ANIMAC (Catalan International Animation Film Festival) to organize animation film activities.
This first meeting will take place before the start of the Festival, which is being held this year in Lleida from 23 February to 1 March.
Presentation of the working process of the film Waltz with Bashir (2008)
Waltz with Bashir, directed by Ari Folman, winner of the Golden Globes Best Foreign Film award and nominated for an Oscar at this year's Academy Awards, is the year's most important animation film for various reasons.
7.30 p.m. Presentation by Isabel Herguera, director of the ANIMAC, who will give a preview of the forthcoming festival.
Screening of the ANIMAC 2009 introductory video
7.45 p.m. Barak Drori, one of the animators of Waltz with Bashir, will talk about how the film was made and screen some excerpts.
8 p.m. To close, a question and answer session with the public.
Credits
Organizer

With the collaboration of

Ajuntament de Lleida, Institut CatalÓ de les Ind˙stries Culturals