Event
Friday 19 February, 20:00
ANIMAC AT CCCB. Panique au village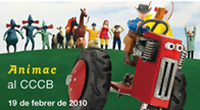 Enlarge image
ANIMAC, the International Animation Film Festival of Catalonia (Lleida), returns to the Centre de Cultura Contemporània de Barcelona (CCCB) to bring you all the new features contained in its 14th year (22-28 February 2010).

For everyone who is interested in animation film, we are organizing a session to present and explore the working processes and new techniques applied to the film PANIQUE AU VILLAGE (2009) by Stéphane Aubier and Vincent Patar, which will be screened at the ANIMAC festival.
8 p.m. Presentation by Isabel Herguera, the director of Animac, who will give us a preview of the contents of this year's festival.
Screening of a video to introduce ANIMAC 2010
8.30 p.m. Steven de Beul, Ben Tesseur and Pilar Torres, members of the Belgian production company Beast Animation, will explain the process of producing the film, showing excerpts. They'll be talking about everything that takes place behind the camera and working with stop motion.

9.30 p.m. To close, question-and-answer session with the public.
Credits
Organizer

With the collaboration of

Ajuntament de Lleida, Institut CatalÓ de les Ind˙stries Culturals