Event
Alpha Channel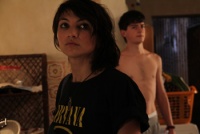 Enlarge image
As a new feature for this year, the online independent film platform Filmin will show, free of charge and during a period of one month (from 14 March to 14 April), a selection of audiovisual contents from previous Alpha Channel editions, expressly produced for the festival.
In this edition we will also enjoy the participation of Thomas Zandegiacomo, programmer of the Zebra Festival of videopoetry in Berlin, as well as the premiere of the film Il futuro, based on Una novelita lumpen by Roberto Bolaño.
General information
NOW opening times:
Thursday March 25th through Saturday 27th, open from 11 am to 10 pm
If you have any questions or comments, please contact now@cccb.org
Free admission to all activities
Registration required in advance for workshops. Tel: (+34) 933.064.135. E-mail: seducatiu@cccb.org
CCCB reserves the right to modify the schedule for reasons beyond its control.
CCCB
Montalegre, 5. 08001 Barcelona. Tel.: +34 933 064 100.
www.cccb.org/now