Event
Thursday 23 December, 18:30
After Kurosawa…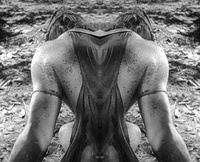 Enlarge image
The CCCB is taking part in the activities of Kurosawa Year 2010 along with another 26 institutions and bodies in 12 cities throughout Spain.

This programme is just a small tribute to the impact and influence that the body of work of Akira Kurosawa has had on film artists of other generations and cultures.
Programme

Papillon d'amour, Nicolas Provost, Belgium, 2003, video, sound, 4 min.
Bataille, Nicolas Provost, Belgium, 2003, video, sound, 7 min.
A.K., Chris Marker, France, Japan, 1985, video, 75 min. (original version in English and Japanese, Spanish subtitles)
With its magnificent use of black and white and a powerful formal simplicity, Kurosawa's film Rashomon (1951) tells the story of the rape of a woman and the murder of a man from different viewpoints, representing reflection on the narrative possibilities of film. Papillon d'amour and Bataille, by Belgian visual artist Nicolas Provost, are the manipulation of images from the film, which are mirrored in the longitudinal axis. The characters are thereby converted into new and strangely beautiful forms.

In 1984, French filmmaker Chris Marker was present at the filming of Ran (1986), another of the great films of Akira Kurosawa, which presents a devastating view of war and its motivations. A.K. is a testimony to that experience, a kind of making of or a highly personal essayistic documentary that shows us the complications of filming, the way the director works and the contrast between the fictional and the real elements in the resulting film.
Participants

Director:

Themes