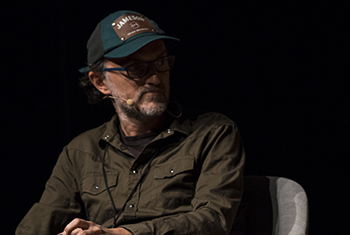 Marc Caellas
Theatre director, nomadic writer and restless cultural manager, he acts as a catalyst for new stage and literary tendencies in the Catalan scene
Marc Caellas (Barcelona, 1974) is a theatre director, writer and curator of cultural proposals that are a hybrid of literature, stage and contemporary art, such as Ahí está: 10 años de artes vivas (MUSAC, 2015); El estómago de los escritores (CCCB-Kosmopolis, 2015/2016) and No todo va a ser hablar (CaixaForum, 2016).
His latest stage proposals are El perico tumba la paloma, about the coca plant and its derivatives; Come en casa Borges, about the friendship between Bioy Casares and Jorge Luis Borges; Nunca estuve en New York, based on Cielo, by David G. Torres; Cuerpo Serrano, an artistic intervention at the nyamnyam space as part of the season Todo lo que me gusta es inmoral, ilegal o engorda (2015); and Guiris go home, a diatribe against the tourism industry (2015).
He writes regularly for El Estado Mental, Altaïr Magazine, Encuentros and Tea-tron and has published the books Carcelona (Melusina, 2011), Caracaos (Melusina, 2015) and Teatro del bueno (Teatron tinta, 2015).