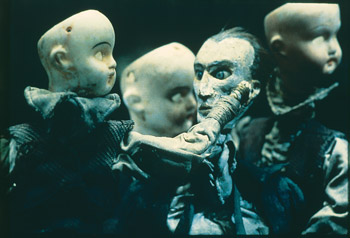 Quay Brothers. Frame of Street of Crocodiles, 1986. © Konick Studios Ltd.
Metamorphosis presents the works of four key figures in the field of animated films: the pioneering Polish animator (born in Russia) who made his home in Paris, Ladislas Starewitch (1882-1965), the Czech master, Jan Švankmajer (1934), and the Quay Brothers (1947), who were born in Pennsylvania but have lived in London for the past three decades. Three unique filmographies that, nonetheless, have a great deal in common: an eccentric universe of slumber where innocence, cruelty, voluptuousness, magic and madness coexist. A troubling, poetic, lucid and, at times grotesque, at times phantasmagorical, landscape of people who love the unproductive and futile.
Ladislas Starewitch. L'Horloge magique, 1928. © Collection Martin-Starewitch.
Theirs is a cinema of resistance against narrative conventions which is impervious to the rationalising hygiene modernity has imposed. In the face of the world of the adult and the correct, Starewitch's imagination, Švankmajer's provocation and the Quay Brothers' permanently convalescing characters put themselves forward as an unexpected invitation to freedom.
Animated cinema is the demiurgic art par excellence: matter comes to life and is transformed in the hands and imaginations of the creators. They, more than anybody, know about the secret life of objects.
The exhibition also showcases a large number of artistic and cinematographic references which trace the spheres of interest these filmmakers are drawn to: fairytales, horror stories, the world of dreams, cabinets of curiosities, pre-Enlightenment science, alchemy and illusionism.
This is the first time that the work of these four artists has been presented in any detail and depth in our country. Yet what makes the exhibition a truly international event is the fact that the work of these creators, who are engaged in explicit dialogue, is being brought together in one single project: the Quay Brothers acknowledge that they are admirers of Jan Švankmajer, and all three relish the company of Starewitch.
On the occasion of the exhibition, a publication will come out including texts by Jordi Costa, Brian Dillon, Andrés Hispano, Carolina López, François Martin and Pascal Vimenet.
Exhibition featuring works by: Leonardo Alenza, Arnold Böcklin, Walerian Borowczyk, Charles Bowers, Luis Buñuel, Émile Cohl, Gustave Courbet, Segundo de Chomón, Salvador Dalí, Monsu Desiderio, James Ensor, Max Ernst, Francisco de Goya, Jean Grandville, Emma Hauck, Max Klinger, Alfred Kubin, Eugenio Lucas, Marey, Josep Masana, Méliès, Joaquim Pla Janini, Lotte Reiniger, Bruno Schulz, Irène Starewitch, Eva Švankmajerová, Robert Walser
Francisco de Goya. Disparate volante, 1815-24

Jean Grandville. Les Métamorphoses du sommeil, 1843
Seguidor de Hieronymus Bosch, El Bosco. Visión de Tondal, a partir de 1501-1550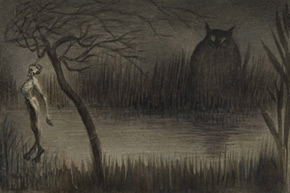 Alfred Kubin. The Pond – Der Tuempel, c. 1905
Charles Le Brun. Dissertation sur un Traité de Charles Le Brun concernant le rapport de la Physionomie Humaine avec celle des animaux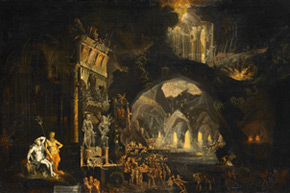 Monsù Desiderio (François de Nomé). Les Enfers, 1622
Ladislas Starewitch
Ladislas Starewitch. ©Collection Martin-Starewitch
Starewitch was a pioneer and undisputed master of puppet animation, a self-taught filmmaker, a trained anthropologist and an amateur entomologist. He was born in Moscow in 1882 to Polish parents and made more than 100 films in Lithuania, in Russia and, from 1920 onwards, in France.
His early passion for drawing and photography and fascination with nature, particularly insects, which he had collected from a young age, came together to create a unique body of work. His first animal characters were actual insects but he went on to make puppets that were practically indistinguishable from these real-life models. To these he added a wide variety of fauna which lost none of their wonderful and somewhat disturbing realism.
Many of Starewitch's tales are inspired by traditional fables, however his most celebrated ones are based on his own stories. His talent for narrative rhythm, technical inventiveness and for imbuing his roguish characters with life, make each film a masterpiece which combines Gogolesque absurd humour with poetry or political satire.
The success of the series of adventures starring the dog Fetiche brought Hollywood knocking, but Starewitch rejected its advances and continued working in his little studio on the outskirts of Paris with his small production team but with absolute freedom. His wife Ana Zimmerman was his assistant; his daughter Irene worked behind the camera as well as being co-writer and animator; and his other daughter Nina acted in many of his films.
In spite of the recognition Starewitch received in Moscow in the years leading up to the Bolshevik revolution, and in Paris in the 1920s and 30s, he died in obscurity in 1965. In the 1990s, his films were rediscovered and restored. Starewitch has been praised by directors such as Nick Park, John Lasseter, Tim Burton and Wes Anderson. Jan Švankmajer considers him "the Méliès of animation" and the Quay Brothers have described him as a master.
Jan Švankmajer
Jan Švankmajer. Courtesy of Athanor Ltd. Film Production Company
The Czech artist Jan Švankmajer (1934) is considered one of the most well-rounded, consistent and unique filmmakers of his generation. His body of work illustrates, like no other, the therapeutic, transgressive and resistant role of art on the other side of the Iron Curtain.
Jan Švankmajer's work brings together the cultural traditions of his native Prague – including puppet theatre, the theatre of masks, the Semafor group's theatre of small stages, the audiovisual avant-garde of the Lanterna Magika and even the imprint the wondrous court of the Holy Roman Emperor, Rudolf II had left on the city in the 16th century – and his surrealist affiliations. Lack of communication, bureaucracy, sex, the metabolism, textures, food, childhood, fear, decomposition, the absurd, and black humour are just some of the central themes and motifs in his works.
Švankmajer made his first films in 1964 but in 1972 he fell foul of the censors and was forced to stop production for seven years. In the 1980s and 90s, Švankmajer earned a reputation as one of the most fascinating contemporary animators. This was due to his feature-length international co-productions
and the recognition he achieved at festivals around the world. Although Švankmajer established his own recognisable style from early in his career, he has continued to reinvent himself in his most recent works.
Jan Švankmajer's wife, the artist Eva Švankmajerová (1940-2005), was one of his most important and outstanding collaborators. She was also a member of the Czech surrealist group, and worked as art director on many of his films to which she brought her own trademark style influenced by folk art. She also created many of the promotional posters for his films.
Quay Brothers
Germans Quay. ©Atelier Konick QbfZ

The Quay Brothers are filmmakers and screenwriters born in the United States in 1947 who currently live and work in the United Kingdom. They are identical twins who love forgotten objects and small things and were drawn to cinema in pursuit of movement and music from the field of drawing and graphic design.
Their films reveal the influence of the central-European cultural scene, particularly the works of Polish and Czech graphic designers, filmmakers and writers.
Roman Cieslewickz, Waleryan Borowczyk, Bruno Schulz, Franz Kafka, Jan Švankmajer, Jan Lenica, the Swiss author Robert Walser and the Uruguayan Felisberto Hernández are some of their main sources of inspiration.
Their work stands out because of its technical sophistication, the musicality of the images and the painstaking attention to staging which is shown by their Dormitorium: the dioramas used in their films together with their disturbing puppets.
Their documentaries about medical collections also reveal their fascination with science, its paraphernalia and relationship with the monstrous. Their territory is the sinister and imprecise threshold that doesn't distinguish between sleep and wakefulness, reason and madness and the organic and the mechanical.
Their film Street of Crocodiles (1986), based on a short story of the same name by Bruno Schulz, was chosen by Terry Gilliam as one of the best animated films of all times.
They collaborate regularly with composers and musicians on theatre, dance and opera projects.