Drap-Art
Drap-Art'11
International Artistic Recycling Festival of Catalonia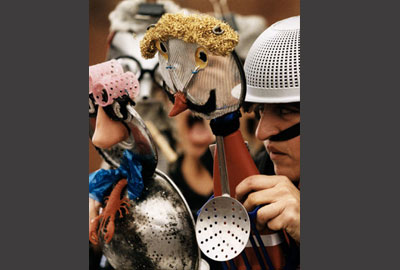 At the CCCB from 16 to 18 December 2011:
At the FAD from 21 to 30 December 2011: group exhibition, audiovisuals, workshops and fair
its activities between two of the city's singular spaces, the CCCB and the FAD, and, for the first time, Drap-Art includes two concerts in the new Sala Teatre at the CCCB, increasing the role of music in the festival. This time round, Drap-Art is also taking part in an exchange with the Water Tower Art Fest in Sofia, Bulgaria.
Drap-Art'11. International Artistic Recycling Festival of Catalonia will take place at the CCCB, in Plaça Joan Coromines, Pati de les Dones and Plaça dels Àngels, from Friday 16 to Friday 30 December. As ever, the activities will be concentrated during the pre-Christmas weekend and the last three days of the event.
Like last time, Drap-Art'11 comprises eight sections, all presenting creative recycling: group exhibitions of artworks and designer objects made using recyclable materials, interventions in public space, a space for reflection, the traditional art and design market, participatory workshops, shows, audiovisuals and environmental cinema.
Drap-Art'11 aims to strike a balance between national and international, new talents and established artists, in order to encourage interchange between countries and generations. For this reason, in addition to the artists, musicians, workshop facilitators, designers, speakers and filmmakers selected in the open call, the festival also welcomes guest artists in collaboration with associations, galleries and specialized freelance curators.
As a special incentive, for the third year running Drap-Art'11 hosts the Residu'Art Prize, awarded by the HERA group to the Best Emerging Artist and the Best Professional Artist.
Drap-Art'11 brings together over 150 artists, musicians, workshop facilitators, designers, speakers and filmmakers.
Practical information